STORAGE HOT WATER SYSTEMS
At Metro Electrical 24 Hour Electricians we always will offer the best advice and the most cost effective repair with your storage hot water repairs. Has your electric water heater stopped working, or is not heating up enough? We repair all storage Electric hot water systems from all the major brands including Bosch, Dux, Rheem, Rinnai, Quantum and Vulcan. Whether the issue is a heating element, thermostat or a switch board issue we can fix it.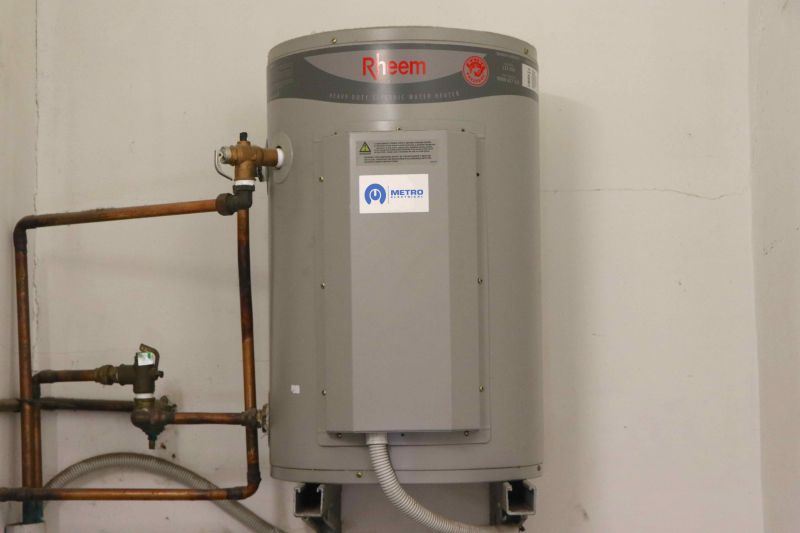 Storage hot water systems not heating up
Storage hot water systems are very basic there is not much to them, the main components that could fail are the heating element and the thermostat other issues might be a switch board issue or a leaking tank. Metro Electrical 24 Hour Electricians carry stock a range of common heating elements and thermostats in our vehicles so we can get your Storage hot water systems up and running in no time. Our electricians can diagnose what ever the issue is and advise the best solution on repairing or replacing the Storage hot water system.
Is your Storage hot water system beyond repair
Should you system be beyond repair, If your water tank is leaking or is in bad shape we will generally advise on replacement of the Storage hot water system. Metro Electrical 24 Hour Electricians will work closely with our Plumber to make sure you will get the best solution and price for your new Storage hot water system replacement or if you would like to upgrade to a more cost effective hot water system.
Storage hot water systems service
Storage hot water systems need servicing it it recommended every two years to keep your hot water system safe and to avoid any potential expensive repairs or replacement.
Sacrificial Anode replacement is recommended on a storage hot water service. Anodes are located in your storage hot water system and are made of a sacrificial metal which is located inside the tank, it stops the tank from corroding by sacrificing itself and corroding away first so after a few years. The tank will start to corrode unless the anode is replaced.
Temperature pressure release valves on storage hot water systems with tanks is a important safety device which prevents possible explosions of your hot water system. If the Temperature pressure release valves become unable to release water due to it being corroded or seized if your hot water tank over heats it could explode.
The Benefits and downside of Storage Hot Water units
The only real benefit of Storage hot water systems is that the cost of the unit are cheap. The long term running of a Storage hot water systems can be very expensive, they constantly will keep the temperature up 24 hours a day 7 days a week 365 days a year. It is true they only heat up once the temperature drops bellow what is set on the thermostat but there is a lot of wasted energy with heat dissipation. Storage hot water systems most expensive to run. Generally the most cost effective and environmentally friendly hot water systems to own are a instantaneous gas this only operates when you need it saving on wasted energy. Another cost effective and green hot water systems are the Heat pump hot water units. We recommend contacting our Plumber to find the best solution for your needs.